Faculty Profile for Dr. Bob Edward Vasquez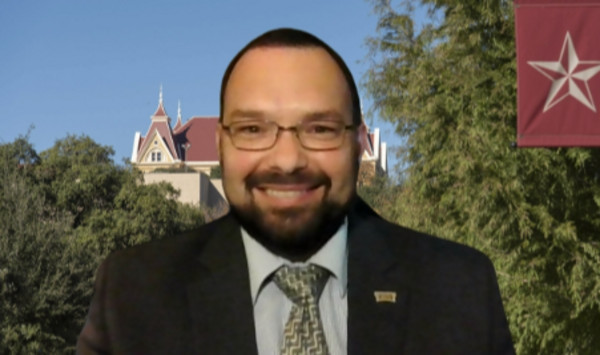 Dr. Bob Edward Vasquez
Asst Dean, College — College of Applied Arts
Associate Professor — School of Criminal Justice & Criminology
HINE 109
phone: (512) 245-8460
Biography Section
Biography and Education
Professor Bob Edward Vásquez joined the School of Criminal Justice in 2009 and was awarded tenure in 2015. A proud native Texan and a first-generation college graduate, Professor Vásquez was raised in San Antonio. Under Hopwood (which outlawed the use of race in admissions decisions), he attended The University of Texas at Austin where, in four years, he earned a B.A. in Music and a B.A. in Sociology. His master's and doctoral degrees are from the School of Criminal Justice at the University at Albany, State University of New York where he also concurrently enrolled in the graduate program in epidemiology and biostatistics.
Teaching Interests
Professor Vásquez teaches at the bachelor's, master's, and doctoral level. The courses that Professor Vásquez developed and added to the curriculum at Texas State are among the most advanced courses in statistics that the School of Criminal Justice offers. Professor Vásquez is affiliated with the program in Latina/o Studies, and he teaches a course in Race, Ethnicity, and Criminal Justice, which is also part of the curriculum for the upcoming program in African American Studies. His students named him Inspirational Professor in 2007, Favorite Professor in 2010 and 2014, and he won the College-level award for Excellence in Teaching in 2014.
Research Interests
Professor Vásquez is interested in measurement, quantitative research methods, and in the statistical techniques involved in modeling causes of crime. His recently published work appears in Criminal Justice and Behavior and Justice Quarterly.
Professor Vásquez received the Lumbard Award for Academic Excellence in 2009, was the Chair's nominee for the Presidential Award for Excellence in Research in 2010, and he won the Presidential Award for Excellence in Research in 2011 and 2012 in the College of Applied Arts. His educational breadth allows for successful collaborations across disciplines; from the American Society of Clinical Laboratory Science, for example, he received a Distinguished Author Award in 2013 and the Joseph J. Kleiner Award in 2014.
Selected Scholarly/Creative Work
Reinhard, D. J., Vasquez, B. E., & Payne, T. (2021). Geographic reach considerations for intervention analysis and crime prevention. Crime Prevention and Community Safety, 23, 416–432.

Hsu, H. Y., Vásquez, B. E., & McDowall, D. (2018). A Time-Series Analysis of Terrorism: Intervention, Displacement, and Diffusion of Benefits. Justice Quarterly, 35. Retrieved from https://doi.org/10.1080/07418825.2017.1340501

Vásquez, B. E., Zimmerman, G. M., & Farrell, A. S. (2015). Examining the joint impact of moderating and nonlinear peer effects on the sex gap in violent crime. Criminal Justice and Behavior, 42, 176–195.

Blair, J. P., Levine, T., & Vásquez, B. E. (2015). Producing Deception  Detection Expertise. Policing: An International Journal of Police Strategies & Management, 38, 71–85.

Vásquez, B. E., & Zimmerman, G. M. (2014). An investigation into the empirical relationship between time with peers, friendship, and delinquency. Journal of Criminal Justice, 42, 244–256.
Selected Awards
Award / Honor Recipient: Presidential Award for Excellence in Service, Texas State University, College of Applied Arts–Level.

August 2015

Award / Honor Recipient: Favorite Professor, graduate inductees of the Alfred H. Nolle Chapter (Texas State University) of the Alpha Chi National Honor Society.

2014

Award / Honor Recipient: Presidential Award for Excellence in Teaching, Texas State University, College of Applied Arts.

August 2014

Award / Honor Recipient: Distinguished Author Award, National Award from American Society of Clinical Laboratory Science.

August 2013

Award / Honor Recipient: Presidential Award for Excellence in Scholarly/Creative Activities, Texas State University, College of Applied Arts –Level.

July 2012